Melbourne 90s guitar pop band The Earthmen have recorded four new songs for an upcoming compilation.
The retrospective 'College Heart' will be released by Popboomerang. Work on the collection began in 2014 and prompted The Earthmen to reform in the studio and record four new songs. The four new songs 'Find Your Own Way', 'Personal History', 'Blue Sky' and 'The Reprise' can be heard at https://theearthmen.bandcamp.com.
College Heart tracklisting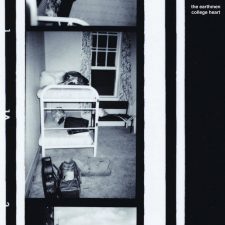 1. Figure 8 03:56
2. The Fall And Rise Of My Favorite Sixties Girl 03:04
3. Tell The Women We're Going 03:07
4. The Language Of You and Me 01:44
5. College Heart 04:36
6. The House Jack Kerouac Built 04:46
7. Kathleen 02:28
8. Scene Stealer 03:42
9. Hug Me Tighter 03:05
10. Arms Reach 03:26
11. Whoever's Been Using This Bed 03:41
12. Coloured In 04:14
13. First Single 03:12
14. This Much I Know 05:06
15. Find Your Own Way 04:16
16. Personal History 04:32
17. Blue Sky 03:41
18. The Reprise 03:48
The Earthmen did their time in the 90s but by 1999 it was all over.
The one main album was 'Love Walks In' through Warner Music in 1997. The closest they came to a hit was 'Whoever's Been Using This Bed' (no 85, 1997).
The Earthmen were also one of the bands that played on Recovery back in the 90s. The three original hosts Jane Gazzo, Leigh Whannell and Dylan Lewis reunited for a few drinks last weekend.
The Earthmen will reunite for live shows to launch the album in November. Details in coming weeks.
——————————————————————————————————————————————
Never miss a story! Get your free Noise11.com daily music news email alert. Subscribe to the Noise11 Music Newsletter here
Listen to the Noise11 Music News channel now at iHeartRadio
Follow Noise11.com on Facebook and Twitter
Comments
comments