Skyhooks guitarist Bob 'Bongo' Starkie has put his gold record for Best of Skyhooks up for auction on eBay.
'The Best of Skyhooks' was the second compilation for the band. It was released in 1979, two years after 'The Skyhooks Tapes'.
"This is one of my Platinum records that has spent its life going from one storage space to another," Bob said in a statement. "I figure somebody would get a more pleasure from it hanging on their wall. The frame has a few blemishes from wear and tear but all round its in good condition. I'm happy to autograph it. I will package well for however you want it posted. It weighs 5kg. 65cm x 50cm x 4 cm. Happy bidding".
The Best of Skyhooks was released in early 1979, after the departure of lead singer Graeme 'Shirley' Strachan.
The Best of Skyhooks tracklisting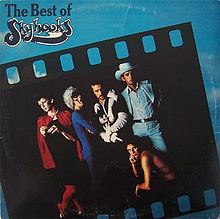 Living in the Seventies
You Just Like Me Cause I'm Good in Bed
Balwyn Calling
Horror Movie
Smut
All My Friends Are Getting Married
Ego Is Not a Dirty Word
Let It Rock
Million Dollar Riff
This Is My City
Bbbbbbbbbbbbboogie
Crazy Heart
Blue Jeans
Party to End All Parties
Over the Border" – 3:08
Women in Uniform
Bidding for the album started at $500 and is currently at $1025 after 12 bids. The auction is open until 2pm 24 August 2017.
Comments
comments