John Farnham's Red Hot Summer return has been greeting with thunderous applause after the Australian superstar was forced to cancel a series of shows prior to this tour.
John Farnham played his first Red Hot Summer show of 2019 at Batemans Bay on Saturday and he was back playing to win. John had been suffering the after-effect of complications from a 2018 operation and was forced to cancel four shows recently. However, even after the recovery period, the stamina from Farnham saw a benchmark performance showing artists half his age how "professional" is done right.
The incredible return of @johnfarnham for @RedHotSummerTo1 showcasing a true Australian superstar pic.twitter.com/NqOE2sYfin

— Noise11.com (@Noise11Tweets) March 25, 2019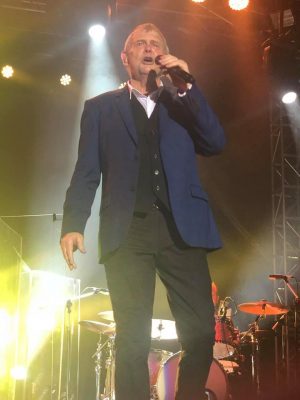 Red Hot Summer founder Duane McDonald said, "We were thrilled to see John return to the stage on Saturday night with such power and energy. The crowd well knew of John's recent health issues and this was evident with the roar when he stepped out. The vibe in the crowd continued to build as he worked through the set. While John's workload is still being managed we are so happy that he is well enough to perform at these upcoming Red Hot Summer Tour dates".
Earlier that day John's manager Glenn Wheatley said, "John is back on stage tonight for the Red Hot Summer Tour in Batemans Bay playing to a full house in full voice and having a ball. He is so looking forward to the rest of the tour and apologises for anyone inconvenienced by the cancelled shows and hopes to visit those regions again soon."
Fans at Red Hot Summer Batemans Bay were treated to the full John Farnham set.
John Farnham setlist, 23 March 2019
We Will Rock You (Queen cover from One Voice, 2003)
Hearts On Fire (from Romeo's Heart, 1996)
Age of Reason (from Age of Reason, 1988)
Chain Reaction (from Chain Reaction, 1990)
Reasons (from Whispering Jack, 1986)
No One Comes Close (from Whispering Jack, 1986)
Love to Shine (from Whispering Jack, 1986)
One Step Away (from Whispering Jack, 1986)
Trouble (from Whispering Jack, 1986)
A Touch of Paradise (from Whispering Jack, 1986)
Pressure Down (from Whispering Jack, 1986)
That's Freedom (from Chain Reaction, 1990)
Playing To Win (from Little River Band, Playing to Win, 1985)
You're The Voice (from Whispering Jack, 1986)
It's a Long Way to the Top (if you want to rock n' roll) (AC/DC cover)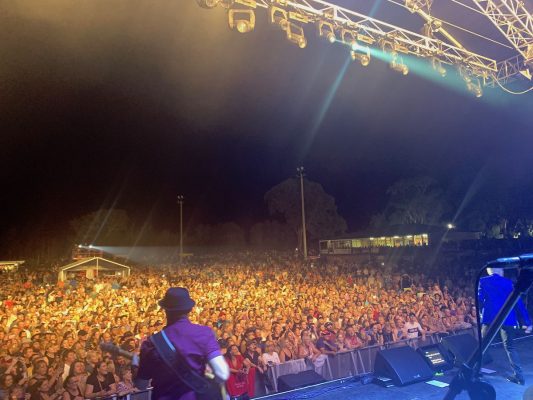 Red Hot Summer crowd for John Farnham 2019
The shows this weekend at Bella Vista Farm, Baulkham Hills for Saturday and Sunday are both now sold out as is the show for Mount Gambier. The Noosa and Cairns shows have final tickets on sale and Rockhampton is also heading towards a sell-out.
John Farnham's Red Hot Summer dates also feature Daryl Braithwaite, Jon Stevens, Vanessa Amorosi, Thirsty Merc and Dragon.
The Red Hot Summer remaining Farnham dates are
30 and 31 March, Baulkham Hills, NSW SOLD OUT
6 April, Mt Gambier, SA SOLD OUT
13 April, Noosa, Qld FINAL TICKETS
20 April, Rockhampton, Qld MOVING FAST
27 April, Cairns, Qld FINAL TICKETS
Follow Noise11 on Twitter for news as it happens
For news as it happens follow Noise11 on Facebook
Listen to the Noise11 Music News channel now at iHeartRadio
Comments
comments